Time to escape and relax in the beauty of the outback…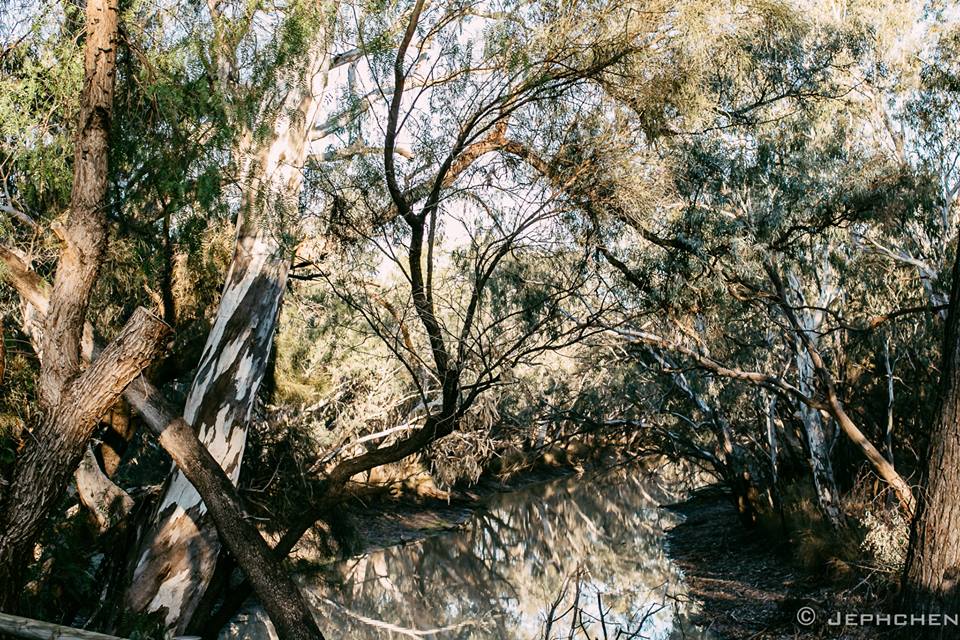 Bushwalking, Mountain Biking or Jogging Tracks
The team here are kept busy with the slasher and grader out regularly to keep our tracks clear for guests. With over 2850 acres to explore there is no shortage of adventures. Just ask for a map before you depart and be sure to pack sunscreen, a hat and lots of water!
Fishing and Yabbying
The Bogan River is teeming with underwater activity and despite a high population of carp you may be lucky enough to catch a Yellow-Belly (aka Golden Perch) for dinner! Cast your line from the banks of the Bogan or from one of our lovely row boats! We also have some great reliable dams for yabbying so just ask if you'd like some nets and bait. They pair perfectly with a little butter, some home-grown lemon myrtle and a local chardy!
Native Flora and Fauna
Kangaroos and Wallabies – We have Western Grey, Red Kangaroos and occasionally Wallaroos which are a darker, shorter wallaby.

Bird Life – Callubri Station is home to plethora of outback bird species and a wonderful place for twitchers and casual bird watchers alike. Please just ask if you would like to borrow any books on our local birds or a pair of binoculars. The station is home to large flocks of Pink and Grey Galahs, Twelve Apostles or Lousy Jacks, Top Notch Pigeons. We also have White Corellas, Mallee Ring Necked Parrots, Magpies, Peewees, Honey Eater, Finches, Native Doves, Pelicans, black swan, Water/Swamp Hens, Ibis, Kingfisher, Butcher birds, kookaburras, Herron, Bittern, Bowerbird, blackbird, crows and ravens, mud swallows, hopping bob, fairy martins, Eastern Rosella, blue bonnets, black cockatoos, wood ducks and divers. In early spring you may even spy a flock of baby emus running behind mum! If you look up high we are constantly being observed by sparrow hawks, brown and black kites and even the king of the raptors, The Wedge Tail Eagle gliding high overhead on thermals.
Reptiles – We have many scaly friends (and some we would prefer not to make friends with!) here in Outback NSW. We mainly see Carpet (Pythons) and Western Brown, red bellied black, green tree and whip snakes, Goannas, Frill-less frill neck Lizards, Geckos, Blue Tongued Lizards and shinglebacks.
Amphibians – Our river area is home to green tree frogs and cardinal frogs.
Vegetation – Callubri Station is located in a region that generally receives less than 400mm a year. Most of the vegetation is xerophytic meaning that it is drought tolerant and includes wilgas, eucalypt red/yellow/white/black box, currajongs, white cypress pines, warrior bush, sandlewood, budda, wattle, belah trees, river cooba, myall, quandongs, rosewood, whitewood, leopard wood, fuscia bush, and yarran.

Seasonal Bushflowers – Daisies, billy buttons, flannel flowers, bogan lillies, pattersons curse
Creek beds and springs – We have two Ephemeral creeks across our station and they are Bloochers Cowal and Mulla Cowal that head across across swamp paddock and Euloglen. The creeks are ephemeral because they only run if we receive over 1/2 an inch of rain.
Identification Books and Binoculars – We have several books and also binoculars that we allow our guests to borrow. Please ask at the guest lounge.
The Sunset Lookout
Hop in the car or on your bike, pack some sundowners and head for the best sunset spot on the property.
Photography
We are happy to host photography workshops but also encourage our visitors to bring their cameras and catch their own personal forever moments.
Moon and Star Gazing
One of the most unique things about living in outback NSW is the number cloudless days and starry nights. When it is a full moon you can see the detail of the craters with your naked eye, binoculars or your camera.
The greatest advantage of moon and star gazing is the lack of light pollution caused by city or even and town lights. There is no light pollution interference for visitors because the nearest city is 55 kilometers away.