Callubri Station takes pride of place between the remote country towns of Nyngan and Tottenham in Central West NSW. Our station is located 52kms South of Nyngan (pop 3500), 48kms North of Tottenham (pop 300) and 53kms West of Nevertire (pop 225) in the Central West Plains of NSW. Our closest regional centre is Dubbo (160kms).
Our all inclusive 'Stay and Play' group packages include road transfers to/from our local airports of Nyngan and Tottenham. Our on property air strip is due to be built in early 2023.
For our self-contained 'Escape' packages please refer to the driving directions below or please advise us if you require a transfer (subject to availability). Commercial flights land in Dubbo daily where you can hire a car or for group booking transfers can be arranged.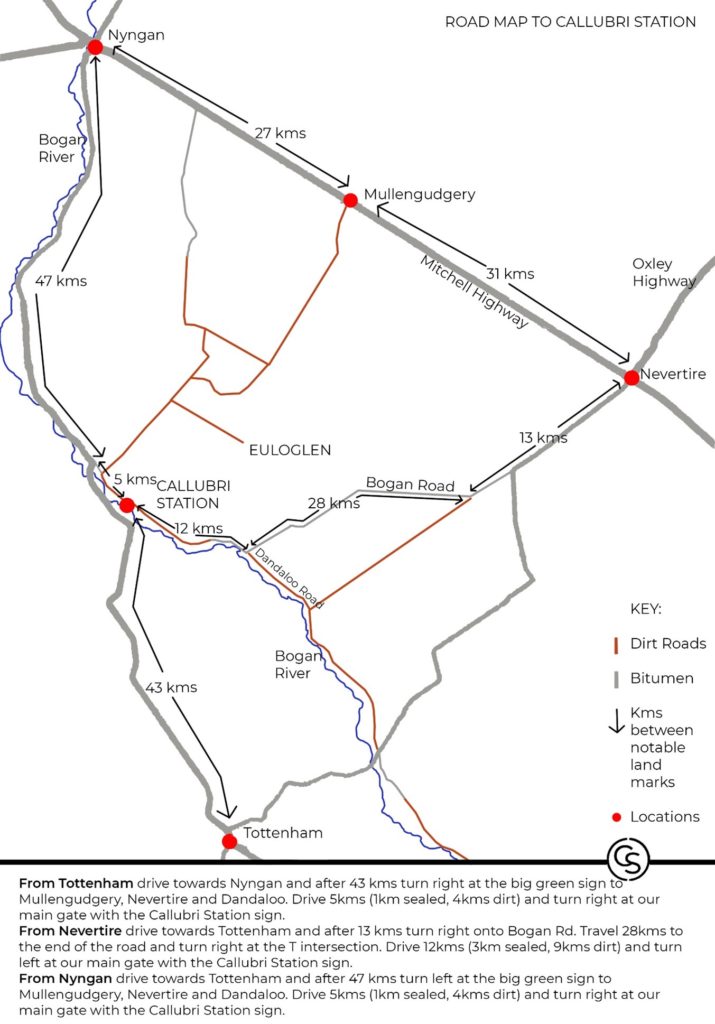 Need assistance with getting to our station or arranging your holiday, retreat or conference? Contact one of our trusted partners…
Private Air Charter Services
Air Adventure – Luxury Outback Tours By Private Aircraft
Australia By Air | Private Air Charter, Corporate Jet Charter, Luxury Air Tours & Aviation Services
Sydney HeliCharter | Corporate Helicopter Charter |Aerial Photography | Private Scenic Helicopter Tours
Private Road Charter Services
https://www.australianluxuryescapes.com/
Conferences & Retreats
https://www.ourtravelcurator.com/
Curated Travel Itineraries
https://southern-crossings.com/